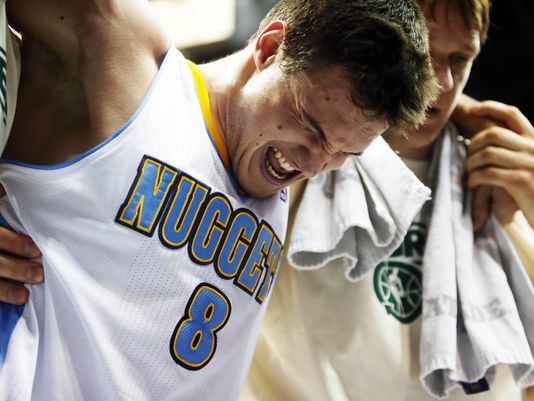 Yahoo! Sports NBA columnist Adrian Wojnarowski is reporting that Denver Nuggets forward Danilo Gallinari may have a torn ACL after his injury against the Dallas Mavericks Thursday night.
Initial exam suggests likely torn ACL for Denver's Danilo Gallinari, source tells Y! "Ligament was loose," source says. MRI Friday.

— Adrian Wojnarowski (@WojYahooNBA) April 5, 2013
Typically, an ACL tear will result in approximately 8-12 months of downtime for that particular player, so it comes as no surprise that many Denver fans are already prepping for a playoff run without Gallinari's services.
Denver is the fifth-best offensive team in the NBA, according to Offensive Rating (points per 100 possessions). Led by Gallinari and guard Ty Lawson, the Nuggets rely on an uptempo offense that pushes for unstoppable transition play, matched with adequate ball-movement (third in assists) and good shot selection (fourth in shooting percentage, bottom half of the league in three pointers attempted).
While Denver loses a player who gives them 16 points and five rebounds per game, he's also a low-percentage shooter (under 42 percent) that attempts over five threes a night, and one that isn't known for being a facilitator.
Currently, the Nuggets are 52-24, the third seed in the Western Conference, two wins in front of the Los Angeles Clippers and three wins from the second-seeded Oklahoma City Thunder. Denver has won 18 of their last 20 games, arguably the best team in the West during the second half of the season.