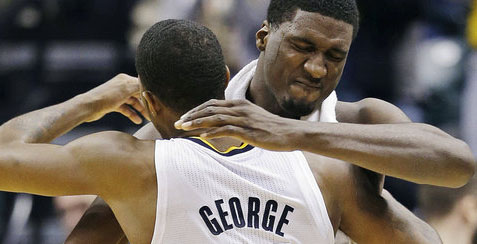 Quick question: what is the best playoff record for a team winning an NBA championship?
Is it too early to talk about the Miami Heat claiming that spot this season? If you have no idea, and you're guessing a team went undefeated, then no, you're incorrect. The 2001 Los Angeles Lakers barreled their way into a 15-1 record on their way to their second of three consecutive championships. You're probably saying, "Come on! That was Kobe and Shaq!" You're right, two top 10 players in NBA history did team up and dominate for quite some time, but now we're talking a season where dream scenarios aren't exactly working out for any team in this conference other than Miami, and that's an understatement, given the injury bug's willingness to feast on some of the most important players in the postseason.
Still, the conference does have two stellar defensive teams remaining, in the Pacers and Bulls, and a Knicks team that can always make a series interesting if they catch fire from beyond the arc. As a wise man once said: "Nothing is impossible." Yes, that wise man was Tracy McGrady, and as of last week, he is no longer a 1st round virgin (thanks to Kobe Bryant's Achilles tendon).
Without further ado, your Eastern Conference 2nd round.
#1 Miami Heat (66-16) vs. #5 Chicago Bulls (45-37)
Enduring a list of injuries to a handful of their best players, the Chicago Bulls closed out the Brooklyn Nets in Game 7 on Saturday night. Quite frankly, I'm not sure how they came out of Brooklyn with a victory. The dismantled Bulls team was on the road, seventh and final game of the series, missing both forward Luol Deng and guard Kirk Hinrich, led by an injured center Joakim Noah, and their only true superstar — former MVP guard Derrick Rose — has been almost as valuable as their cheerleaders. The interesting factor, though, is that Chicago now has to fly to Miami and play a dominant team that has not only been at rest for over a week, but is also walking into a series with a jaw-dropping 41-2 record in their last 43 games.
I'll let that soak in for a moment.
Last season, Chicago strolled into the playoffs with the top seed, for the second year in a row, but Rose's ACL tear in his left knee ended all hopes of a deep playoff run. Fast forward to one year later, to a Bulls team that ended Miami's outstanding 27-game winning streak without Rose on the court, meeting that same team in a best-of-four series. Fully healthy, it's still unlikely that Chicago makes it happen, but things get very interesting with Bulls coach Tom Thibodeau game-planning for Heat forward LeBron James.
Chicago is a tough defensive team that just cannot find easy ways to score, aside from guard Nate Robinson having his way off Noah's screens. They are 23rd in the NBA in Offensive Rating, not a great team shooting the ball, and their indecisiveness slows the game down so much, they only average a hair over 93 points per night, nearly dead last in the NBA.
On the other hand, Miami is a get-up-and-go team that can give you a little bit of everything on the offensive end. The Heat can ignite the break and beat you in transition, they can slow the game down and get to the foul line, and they have the ability to cook your defense from three-point land. Whether you stop them or not doesn't have much value to it, though, if you can't score, because the Heat will be sure to make life extra difficult trying to put points on the board.
As it stands, nobody knows how effective Deng and Hinrich will be when both are inserted back into the lineup (well, Bulls fans are crossing their fingers for Hinrich to heal up as soon as possible). We have no idea if Rose plans on making an elaborate return or not. It's safe to say the Heat will run through the Bulls in five games, and the Chicago victory will depend heavily on the health of the team for one of the games in the United Center, nothing more.
#2 New York Knicks (54-28) vs. #3 Indiana Pacers (49-32)
We're in for a great match-up between forwards Carmelo Anthony and Paul George. There are only a few guys who have defended Anthony better than George throughout his career, and this season, Carmelo is shooting just 37.9 percent against this Pacers team.
Consequently, the workload on the defensive end limits the offensive energy output we see from George, who already struggles to score the ball as a primary scoring option for the Pacers, thanks to forward Danny Granger's injury. Indiana's top-ranked defense does quite a number on teams, but back down the court, the Pacers run on simple, basic basketball to, undesirably, lower their offense into the bottom 10 of the league.
New York doesn't stand out on the defensive end, ranked 18th in Defensive Rating and similar numbers when it comes to defending the three and all shots inside of the arc, but nobody fires more three-balls than these Knicks, and surprisingly, no team takes care of the ball better (ranked 1st in turnovers). Will they continue to connect the dots against this Pacers team, the one they defeated by double-digits in April, behind an up-and-coming Chris Copeland's 20 points?
So far, Anthony has not impressed. In six games against Boston, he averaged almost 27 shots per game, at 38.1 percent from the floor, 26.5 percent from downtown. There is a major difference between forwards Paul Pierce and Jeff Green checking you, and George doing his best impersonation of Scottie Pippen to keep this series tight, which the Pacers should be able to accomplish if both George and center Roy Hibbert can knock down more shots without sacrificing too much effort and intensity on the defensive end.
These Knicks cannot lose their identity. They are a three-point shooting team that plays off of Anthony's ability to attract extra defensive attention, using specialty defenders to solidify them as a team that has the potential to slow down your offense. The Pacers will need to grind out victories at home, and try to find a way to beat the Knicks at Madison Square Garden, something they haven't done since March 2011. Indiana didn't look pretty on the road against the Hawks, up until the Game 6 choke-job by Atlanta, and with their best defenders having to play heavy roles as offensive players, the Pacers will fight to discover productive pieces that will score the ball on the road.
However, it's an interesting situation to see Carmelo responsible for those two big losses to the old Boston Celtics team that should have been swept, and if he continues to shoot his team out of games (and he will likely play that way for years to come), with George on him, this could be one of Anthony's worst nightmares. In conclusion, I simply do not trust Carmelo, and I'm taking the Pacers, 4-2.