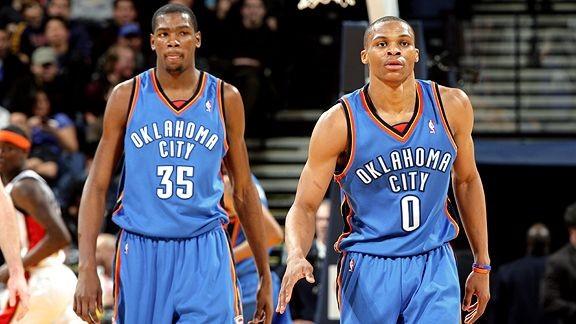 Since the great Michael Jordan's retirement, the Western Conference has won 10 of the last 14 NBA championships. Funny enough, nine of those 10 rings were won by two teams that will be pitted against each other in the 1st round: the Los Angeles Lakers and the San Antonio Spurs, two former dynasties. While the Spurs still covet their winning trio of Tim Duncan, Manu Ginobili and Tony Parker, the Lakers are looking far different than what you saw during the Kobe and Shaq days.
In fact, a lot of our West playoff teams have made at least one change that significantly alters their offensive or defensive strategies of the past. You can even look at that Spurs team and notice that the players around the trio call for a quicker, uptempo game that revolves around Parker's ability to get to the rim, and not as much on Duncan's post play.
With changes come excitement, and excitement can generate the element of surprise. There's nothing better than upsets in the NBA Playoffs, and this conference may deliver just that. Below are your four 1st round match-ups.
#1 Oklahoma City Thunder (60-22) vs. #8 Houston Rockets (45-37)
Game 1 @Oklahoma City: Sunday, 9:30 p.m. ET, TNT
Game 2 @Oklahoma City: Wednesday, 7 p.m. ET, TNT
Game 3 @Houston: April 27, 9:30 p.m. ET, ESPN
Game 4 @Houston: April 29
Game 5 @Oklahoma City: May 1
Game 6 @Houston: May 3
Game 7 @Oklahoma City: May 5
Truthfully, the Rockets may have wanted to avoid the Thunder. It took a massive 46-point game from James Harden to top them back in February, but in their other two meetings, Oklahoma City defeated the Rockets by 30 points (in Houston) and 22 points (in OKC) as if they were playing games of NBA 2K13 with default sliders.
Speaking of video games, does Russell Westbrook's athleticism remind you of players in NBA Jam: Tournament Edition?
Over the last few months, I've been shrugging my shoulders at Westbrook, wondering why he's attempting more shots than Kevin Durant, who is obviously the more effective, efficient scorer. This won't be a devastating issue against a Rockets team that has nobody to stick on Russ, but down the line, things may change. Aside from the star power, these Thunder boast offensive and defensive ratings of 1st and 4th, respectively, and while they would probably love to reverse the James Harden trade they made before the start of the season, they know he's not capable of beating Oklahoma City all by himself in a playoff series, and I can't see Chandler Parsons and Jeremy Lin providing him with enough help to get the job done. The Thunder will hand out a sweep, 4-0, unless Harden dishes out another 45+ point game to steal a win.
#2 San Antonio Spurs (58-24) vs. #7 Los Angeles Lakers (45-37)
Game 1 @San Antonio: Sunday, 3:30 p.m. ET, ABC
Game 2 @San Antonio: Wednesday, 9:30 p.m. ET, TNT
Game 3 @Los Angeles: April 26, 10:30 p.m. ET, ESPN
Game 4 @Los Angeles: April 28, 7 p.m. ET, TNT
Game 5 @San Antonio: April 30,
Game 6 @Los Angeles: May 2
Game 7 @San Antonio: May 4
This will be an interesting series between two teams overcoming injuries throughout the season. The star-studded lineup of Kobe Bryant, Dwight Howard, Pau Gasol, Steve Nash and Ron Artest played a combined seven games together. For Laker fans, that's a hard pill to swallow, but Spurs fans are seeing their team suffer at the wrong time. Manu Ginobili and Tony Parker are both nursing injuries that have clearly changed the way they play, and Boris Diaw just had back surgery. Stephen Jackson, who stretches the floor and defends well, was waived from the team days ago.
The big question is, can a Howard-led Lakers team defeat a Duncan-led Spurs team? While Parker will still be on the court, Bryant is done until at least October, so it will be up to the two big men to pound the ball inside and anchor their squad's defense. In their last 10 games, the Spurs are just 3-7, including a loss to the Kobe-less, Nash-less Lakers on Sunday. Meanwhile, LA has won eight of their last 10 games, with a 17-2 home record since January 25th.
A fully-healthy Spurs team sweeps, especially without Bryant saving the day. The Parker and Ginobili injuries, and missing Diaw and Jackson, could be the combination of punches that end the Spurs' season. The Lakers wanted this series, badly, and they'll win it in a hard-fought six games, 4-2.
#3 Denver Nuggets (57-25) vs. #6 Golden State Warriors (47-35)
Game 1 @Denver: Saturday, 5:30 p.m. ET, ESPN
Game 2 @Denver: Tuesday, 10:30 p.m. ET, TNT
Game 3 @Golden State: April 26, 10:30 p.m. ESPN2
Game 4 @Golden State: April 28, 9:30 p.m. ET, TNT
Game 5 @Denver: April 30
Game 6 @Golden State: May 2
Game 7 @Denver: May 4
Could this be another upset? Nobody plays faster basketball than the Nuggets, but the Warriors won't have any issues testing it. With a rejuvenated Stephen Curry, who has been on a tear in the month of April, Golden State has the firepower to stick around in a seven-game series, while Denver has lost a nice chunk of their offense in Danilo Gallinari, while crossing their fingers and hoping that injured Kenneth Faried and Timofey Mozgov will be able to give them productive minutes in the 1st round.
One thing to watch for will be how Denver defends the three-point line. All season long, the Nuggets have struggled closing out on perimeter shooters, giving up a 36.3 percent opponent shooting percentage from downtown. That's music to Curry's ears, who broke Ray Allen's three-point record (most makes in a season), and the entire Warriors roster, the best three-point shooting team in the NBA (at a combined 40.3 percent). How will these Nuggets cool off the Warriors, once they start viewing the basket as a circle the size of a swimming pool?
Denver is a powerful home team, and arguably the best Western Conference team since the All-Star break, but losing Gallinari will sting, and a bad match-up doesn't make things any easier. Curry, and a pair of sturdy ankles, will get the job done against the Nuggets up until a Game 7 in Denver, where George Karl's men are a mind-blowing 38-3. The Nuggets will advance in seven games.
#4 Los Angeles Clippers (56-26) vs. #5 Memphis Grizzlies (56-26)
Game 1 @Los Angeles: Saturday, 10:30 p.m. ET, ESPN
Game 2 @Los Angeles: Monday, 10:30 p.m. ET, TNT
Game 3 @Memphis: April 25, 9:30 p.m. ET, TNT
Game 4 @Memphis: April 27, 4:30 p.m. ET, TNT
Game 5 @Los Angeles: April 30
Game 6 @Memphis: May 3
Game 7 @Los Angeles: May 5
How many fans realize the Memphis Grizzlies are the second-best defensive team in the NBA? How many remember the Clippers beating them in the playoffs last season, 4-3? The Grizzlies have changed a bit after dealing Rudy Gay to Toronto, looking towards building a team based heavily on their defensive play. Marc Gasol, Tony Allen, Mike Conley, Tayshaun Prince and Ed Davis are outstanding on the court together, the big reason why offensively-injected teams feel intimidated when they have a date with Memphis on the NBA calendar.
The Clippers won't slouch, though. A top-five offense, these birds operate in the air, running an uptempo offense that relies on pick-and-roll and getting out on the break. No point guard in the NBA does it better than Chris Paul, and support from Blake Griffin, Caron Butler, DeAndre Jordan and Sixth Man of the Year candidate Jamal Crawford only adds to the fun he has bringing the ball up the court.
The game changer could be Memphis' ability to crash the offensive glass. though, and like a lot of great defensive teams, they have the specialty defensive players who target superstar-caliber play. Without Gay playing selfishly and being a liability back on the defensive end, the Grizzlies will look to slow the game down drastically (30th in Pace), lock down the perimeter, and force the Clippers to beat them with Griffin shooting jumpers and Paul hurling contested shots at the rim off drives that, surprisingly, leave few players open, and Memphis will take the series, 4-3.