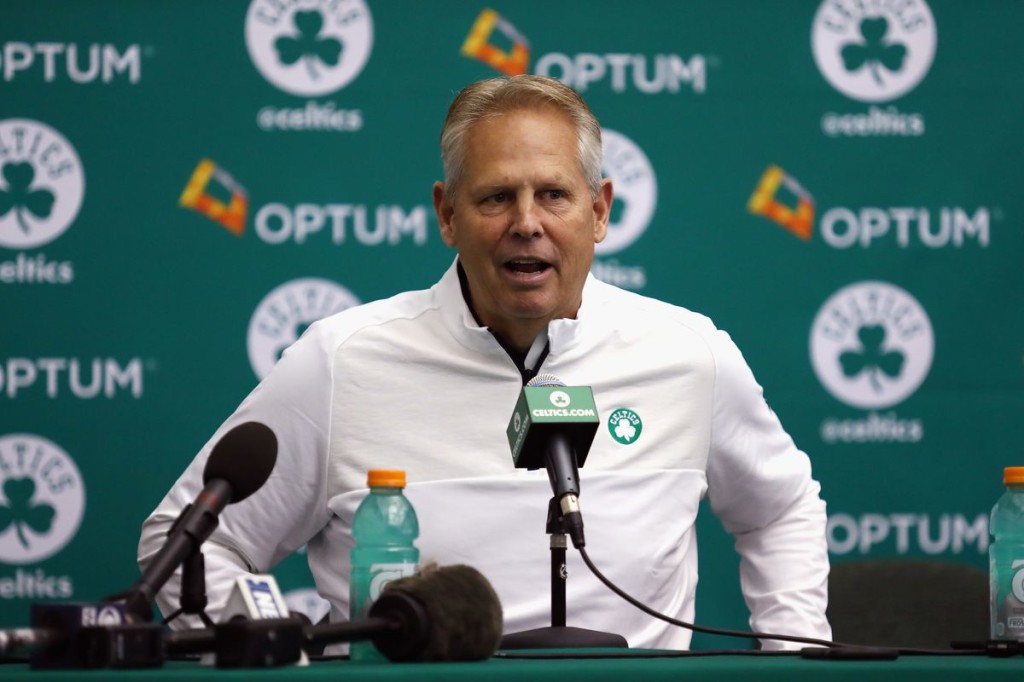 "Knowledge: once it's obtained, it's obtained." – Kevin Garnett
In the NBA, obtaining a couple of superstars is a prerequisite to competing for a title. Having three, with a solid squad of role players and X-factors, is required for building a dynasty.
No franchise knows what a dynasty can mean more than the Boston Celtics: 17 titles, countless legends and moments that cover the entirety of the NBA's lifespan…and now, a traded #1 overall pick.
Monday afternoon, 35 days after the Celtics won the draft lottery (thanks to the infamous Brooklyn Nets trade), Boston dealt the top pick in the draft to the Philadelphia 76ers for the 3rd pick in this year's draft, as well as a future 1st round pick. The trade has sent exciting (and alarming, for Celtics fans) waves across the league. It boils down to one thing: #1 overall picks just don't get traded very often.
(Ironically, the only other time the Celtics had the 1st pick, they traded it, for Robert Parish and Kevin McHale. That worked out pretty well for the Celts, so cheer up Boston fans!)
Boston has a star in Isaiah Thomas, a 5'9 jitterbug of scoring magic and a toughness that Celtics fans have grown to recognize from years of players earning their love. You would think that holding onto the top pick in a loaded draft would net you a second star. Boston also has enough cap room to sign a possible third star this summer (in either Gordon Hayward or Blake Griffin).
That would have been the traditional route. That would also have been boring. If we have learned anything about both the NBA and Danny Ainge (Boston's GM), it's that boring doesn't play anymore. It's Lights, Camera, Drama.
Markelle Fultz looks like a legitimate star. He just turned 19, averaged 23/7/6 in college (for a struggling team) and shows only more and more promise each week. At 6'4 with a 6'10 wingspan and a very good athlete, it would seem like he could play well with a ball-dominant guard like Thomas. Now, Philly gets to see if he can mesh with Joel Embiid and Ben Simmons for the Process, as the 76ers try to climb into respectability.
So why did Boston do this trade? Why give up the chance to take a seemingly surefire future All-Star, when that's clearly what they would be missing?
It comes back to the idea that two stars get you a legitimate chance at a Finals berth. But unless you run with three, and a decent bench, you don't have a chance to beat the Warriors.
The 2017 NBA draft is as deep in terms of star potential as we've seen in over a decade. The 8th pick might turn out to better than the 1st, and yet we also might not have anyone be labeled a "bust" in the top five or so picks. These guys can play, they're young, and have all displayed flashes of stardom. Fit, and opportunity for personal growth within a team, might decide who "wins" this draft.
What the Celtics did was simple math. The 3rd overall pick might not be much worse than the 1st, might even be better, and they get to pick up another future 1st rounder. The risk is Fultz becoming the next great point guard, and that whoever they choose doesn't quite measure up. Supposedly, they're in love with KU's Josh Jackson, a freak athlete and competitor on the wing whose jump shot leaves a lot to be desired. Or they may take his small forward counterpart Jason Tatum, a smooth shooter and scorer who rarely passes and plays defense like he has a cold. Tatum might be the next Paul Pierce or Carmelo Anthony. Jackson may be the next Scottie Pippen. If they are, then Boston wins this trade. They add a good chance at a star, while picking up another asset, which they can either keep or use for a trade.
And that's the final stroke to this situation. There are currently two All-Star wings on the market, both in their prime, and ready to get their shot at taking LeBron James down. The Chicago Bulls' Jimmy Butler went through a year of pretending to be co-leaders with Dwyane Wade, and meanwhile, had to put up with Rajon Rondo's eccentricities. The Bulls barely made the playoffs, and were bounced in six games by these Celtics. Paul George once again met up with LeBron in the playoffs, only to get swept in the first round while his team sputtered and he was asked to do everything.
Rumor has it that George wants to go to the Lakers after this upcoming season. The Cleveland Cavaliers are supposedly sniffing around a trade for George that involves Kevin Love. Neither of those points will slow down the Celtics from making a move his way. If that doesn't' work, they'll go after Butler. The Celtics need that second (and third) star to have a chance at a title. They were the number one overall seed this year, and looked like they might have shot to upend the King. They lost in five games, and Isaiah Thomas went down with a scary hip injury that has sidelined careers in the past.
This brings us to the present, and possibly the future. What do the Celtics do now? They'll probably take Tatum (they've reportedly fallen in love with his small ball power forward potential) and try to swing a trade using their last Brooklyn pick, the other pick they received from this trade, and other assets for George or Butler. Then, they'll woo Hayward to Boston and hope that that's enough to take down the King.
I'm fine with that, if that's their plan. It makes them the third or fourth best team in the league, and one injury to the Cavs might have Boston in the Finals.
But does that win the title? No, probably not.
Isaiah Thomas will be 29 this year, with the aforementioned hip injury. He's awesome; a deadly scorer, and the lifeblood of this team. If healthy, no lead is safe in the 4th quarter. He fights for his team, and both the locker room and fans love him.
That's why this is so hard to type: I think the Celtics should trade Isaiah Thomas.
Ainge has already proven he doesn't care if he's popular. He traded Paul Pierce, Kevin Garnett, Rajon Rondo, and now the #1 overall pick…almost as if he doesn't care the Boston fans shoot him dirty looks in the grocery store. He's been doing this for more than a decade.
This Boston team, even if they nab Butler and sign Hayward, isn't winning the title next year. They probably wouldn't win the following year, either. With that in mind, what do you have? An aging 5'9 point guard, two wings who aren't quite good enough to match up with Kevin Durant, and limited assets to get you help to compete. Back to square one, and there's no way Brooklyn will trade the farm for aged Celtics again.
In the NBA, once you've obtained the crown, you've got it. LeBron could lose to the Warriors for the next five years, and it wouldn't matter. He's the King. He won a title for The Land, and making it to the Finals over and over again is a feat in of itself. The trick is to obtain that immortality. Even one title gets you there. Chauncey Billups and the 2004 Detroit Pistons will be remembered for far longer than they would have as individuals because they beat Shaq and Kobe once. Very few people remember that Shawn Kemp was awesome, the "Blake Griffin before Blake Griffin", because he never won a title. Kevin Durant was staring that problem in the face last summer, and bounced to California to get that monkey off his back. If you want to matter in the NBA, competing isn't good enough. You have to win the crown.
If I'm Danny Ainge, I'm looking at what I've got. Jaylen Brown showed some promise last year as a tough defender, very good athlete, and someone who cares enough to be in the gym the next morning after being knocked out of the playoffs. He might not be a star, but he's definitely a difference-maker. Ditto for Marcus Smart who, if he locks himself in the gym with a shooting coach this summer, might make a jump past the X-factor label. Avery Bradley is an A-plus defender, Al Horford will age nicely as a veteran big man capable of doing all the little things, and Jae Crowder is a hit-or-miss valuable role player who could shoot you in or out of a big game.
They have pieces that, coupled with Thomas and this 3rd pick, will get them back to the Eastern Conference Finals. But is that enough? Ainge knows what it's like to win championships. He also knows disappointment. Falling short isn't good enough for Bean Town. That's why, in lieu of this trade, I'm striking while the iron is hot and trading Thomas.
I'm looking at the New York Knicks, and that #8 overall pick (Dennis Smith could be available and might be the best player in the draft). I'm looking at the New Orleans Pelicans, who might lose Anthony Davis sometime soon anyways, possibly for future unprotected picks. I'm looking anywhere in hopes that I can get something back, and let my young guys go wild. As a KU homer, I'm taking Josh Jackson and locking him in the same gym as Marcus Smart this summer. No prospect has as high of ceiling as Jackson if he gets that jumper fixed (no easy guarantee). I'm looking at a pair of wings in Brown and Jackson who, if you still can sign Hayward, would be a terror to defend, and would be good defensively as they grow up together. It's a team that's probably no worse than a four seed in the East, who might make Cleveland sweat a little next year, and you still have a bright future after Durant, Curry and company grow older.
The NBA is in a strange place. The Warriors are like one of those dragons in Skyrim, hovering over everything, sending lesser beings into hiding. A few will stand up to the challenge. We saw how well that went.
I'd wait it out. Maybe I'm just a coward. Maybe I'm a wuss. Or…maybe, I'm smart (probably not). I'd wait for the Warriors to lose some of their valuable role players. I'd wait for the primed stars to age into declining stars. I'd build a young team that fans can enjoy, a team that can get playoff reps while also building towards the future. I'd hope Jackson and Brown develop jump shots and turn into All-Stars. I'd bank on either next year's Brooklyn pick (and possibly the Lakers' pick Philly sent over) to turn into a couple more chances at a star. I would do all of this knowing that I need to obtain a legitimate chance to take the crown to Boston, and to build what might become a dynasty.
And most of all, I'd hope that Markelle Fultz doesn't turn into a Hall of Famer. Because if he does, Ainge is going to be obtaining more than dirty looks at that grocery store.