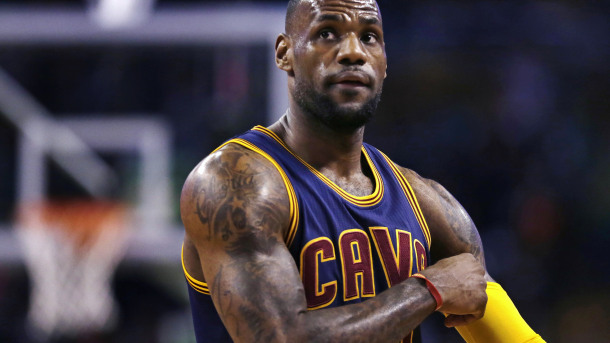 Cleveland doesn't have a Kevin Durant problem, it has a Cleveland problem: a problem that started back on June 24, 2013.
After being left at the altar by LeBron James in the infamous 2010 blockbuster, The Decision, Cleveland was left with very little talent, mismanaged leadership, and no hope in sight. Then, because the Clippers are the Clippers, they lucked into the 1st and 4th picks in the 2011 draft (due to a salary dump by the Clippers, who traded an unprotected pick and Baron Davis to the Cavaliers for peanuts). That trade netted the jilted Cavs Kyrie Irving (you might have heard of him) and Tristan Thompson (who was brought back to life for games four and five of this year's Finals).
The Cavs took 2012 off, drafting the immortal Dion Waiters (over Kyrie's best friend, Harrison Barnes), which begs the question: have we finally learned our lesson about drafting ACC sixth men with top five picks?
Unclear.
Had the Cavs just taken Barnes, this might not be so bad. The Warriors definitely wouldn't be the Warriors, as Barnes helped propel the "Lineup of Death" to impressive levels before Durant showed up. Either way, they didn't, and Waiters now resides in Miami, getting buckets and forever terrorizing fans and head coaches alike.
Which brings me to June 24th, 2013, also known as "the year the Cavs gave away at least one championship, if not more". It's the day they began their trek towards 3 straight Finals (pretty good!) and perhaps losing LeBron for a second time (not so good). Come with me, and see what might have been.
After winning the draft lottery for the second time in three years, Cavs fans were actually thinking basketball might be bearable in Ohio. Kyrie, already a renown bucket-getter, had shown marketed improvement, and Tristan Thompson was about to switch shooting hands to change his career.
Normally, a number one overall pick is worth getting excited for. Around 60 percent of the time, number one picks make at least two All-Star games. That's pretty good! This could have been a draft that gave Cleveland a second star, one that would get them out of the gutter and possibly compete with LeBron down in Miami.
Only, this was the worst draft since 2001. No one was excited for this. No expert had a clue who the Cavs would take, only that no team was excited to actually make a pick. Victor "Future Westbrook Disciple" Oladipo was hyped to have Dwyane Wade potential (lol). Alex Len was a sleeper. Possible number one overall pick Nerlens Noel had gotten hurt in his only season at Kentucky, a season in which the Wildcats had lost in the first round to powerhouse Robert Morris (remember that, UK fans?) It was, without a doubt, ugly, and no one was feeling the vibes of potential titles on the table.
(Although, thanks to Giannis Antetokounmpo, Steven Adams and CJ McCollum, this draft has been saved a little bit. The Greek Freak is the only star, but at least there's a couple of players who matter).
The Cavs had their choice among the mediocre. For whatever reason, they chose to be exciting: instead of taking Oladipo (solid player) or Otto Porter (talented wing from Georgetown when being a player from Georgetown still kind of mattered), the Cavs took…Anthony Bennett.
Wow.
Look, with hindsight, everyone knows that the pick sucked. Everyone knows that Bennett sucks. That much is obvious. He was a wildcard, a potential Draymond Green before Draymond was Draymond. Instead, he was shorter than expected (6'6 and ¾) and out of shape with no game or work ethic. Fun times.
And look, I was there. I remember this draft. There wasn't a legitimate number one overall pick. No one had a clue who to take. Nerlens Noel had a lot of buzz before he got hurt, then everyone found out he was a less talented version of Anthony Davis who couldn't shoot, dribble, or pass.
Still, in this alternate world, Noel should have still been the number overall pick. After getting processed out to Dallas, Nerlens has shown decent potential as a strong rim protector, devastating switcher on the perimeter, and competent roll man in the pick and roll. He's got game (finally).
The Cavs weren't contending that year, anyway. They should have bit the bullet and taken the seven footer from Kentucky. If only they had known what was waiting for them.
After a year of D-League demotion, hundreds of websites mocking the Bennett pick, and countless Cavs fans shaking their heads, the 2013-2014 Cavaliers finished just about as worse as they had the year before. Bennett had given them nothing, and they were looking like the continued laughingstock of the NBA.
Then, luck intervened. The Spurs blasted the Heat in the Finals, LeBron started to look back to his home in Ohio, and the Cavs were graced with the top pick in the loaded 2014 draft.
Joel Embiid had just gotten hurt. Jabari Parker wasn't a great fit. Andrew Wiggins, freak athlete, stellar defender and owner of outstanding potential, was waiting for them.
Of course, they drafted Wiggins. Three weeks later, Lebron came home and shipped Wiggs (and Bennett) off to Minnesota for Kevin Love.
Three years and three Finals appearances later, it's hard to fault the logic. Still, a few things stand out.
2015 Finals (Wiggins' rookie year), Kevin Love gets hurt when Kelly "The Dirty Doofus" Olynk accidentally tries to pull Love's arm out of his socket like a wookie who'd lost a board game. Love goes out, and a game into the Finals, Kyrie sprains his knee. Cavs go up 2-1 behind LeBron going supernova and Matthew Dellavedova stealing some of Stephen Curry's game like he was a Monstar. The Cavs eventually fall before getting their revenge the next season behind a healthy Kyrie, Love and superhuman LeBron performance.
How does any, or all, of this change? Again, let's head back to 2013…
Let's say the Cavs take Nerlens. They're going to suck, but outside of the Freak, Nerlens offers up the highest upside of anyone taken in that draft. They wait on him to get healthy, knowing that seven footers who can run, jump, and slide their feet like a circus-trained gazelle don't come along every year. Their record still sucks the exact same, given that Bennett gave them about as much on-court production as Nerlens would have. That still nets them the Wiggins pick, and here's where we change the course of the NBA.
With a healthy Nerlens, Thompson, Kyrie and Wiggins, LeBron steps in and they unleash utter destruction. They outrun, out-defend everyone, and with Wiggins in tow, LeBron takes a few nights off to sit back, relax, and watch his protege learn the finer points of being an NBA superstar from the best player since Jordan.
Would Wiggins average 23 a game his third year in the league? Probably not. But would he be an improved defender, someone who can pick up everyone from Steph to Durant for stretches of a game? Of course.
And all this happens as LeBron continues doing LeBron stuff.
With Wiggins, the Cavs are younger, longer, more athletic, deeper, and with a reduced payroll. They can barter for skilled role players, since they wouldn't be neck deep in the luxury tax. They can build for both the future and the present. With Noel and Thompson, they've got enough depth up front to contend with any kind of team. Maybe they feel the need to trade one of them. Fine. They get back more pieces for a team that can match up with anyone, new-look Warriors included. A crunch time lineup of Nerlens, LeBron, Wiggins, JR Smith and Kyrie would be enough to worry even the 2017 Warriors.
The Kevin Love trade was defended by many when it happened. Love averaged 26 and 12 his last year in Minnesota. He'd been to multiple All-Star games, had legendary passing skills, and was hungry to compete in the playoffs. The trade made sense.
Unfortunately, it also cost LeBron and the Cavs multiple championships.
I obviously can't prove that Wiggins, as a rookie, would have swung the 2015 Finals. But I know that JR, Iman Shumpert and James Jones all received heavy playing time and shot a combined 41 for 139 (29%) from the field for the Finals. I know that the Cavs had no one to give LeBron a breather (sound familiar?) or who could switch onto Curry in crunch time. I know that, other than Kyrie, the Cavs have no one on their roster who earns minutes younger than 29. I know that LeBron has yet to win a title without a player from the university of Kansas on his roster (Mario Chalmers in 2012 and 2013, Sasha Kaun in 2016..and yes, I know, that doesn't really count for anything).
The point is, having uber athletic, skilled, and flexible wings is where the NBA is going. You need someone who can dribble, pass and shoot while also guarding others who can do those things as well. They had one, in Andrew Wiggins. They also had a chance at a player in Nerlens Noel who, while not a star, is a piece that could win you multiple championships on the right team. They passed on both, and now, they might have passed on their championship window.