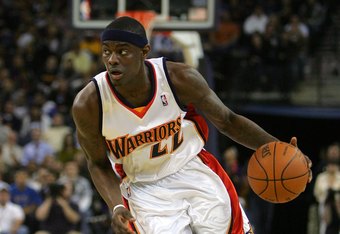 Ezra Shaw/Getty Images
Going undrafted can be hard for a player, but it does not necessarily mean that you won't be playing in the National Basketball Association, well at least if you can play like guard Anthony Morrow.
"I wanted to get drafted, I watched the draft, but I had feeling I probably wasn't going to get drafted, being real with myself," Morrow said.
Despite not being drafted, their were a few teams interested in Morrow including the Miami Heat, Los Angeles Lakers, and the Dallas Mavericks.
Morrow did sign to play basketball overseas, but he had an NBA outclause in his contract, which prohibited him from leaving league. Morrow got out of this overseas contract and signed with the Golden State Warriors.
Growing up, the sharpshooting Morrow watched players such as Ray Allen, Reggie Miller, Richard Hamilton, Mark Price, and Dennis Soctt.
With watching all of those great shooters, Morrow did not attempt to make his shot like any of theirs. Instead, he tried to shoot more like someone else.
"Michael Jordan was a great shooter, I used to watch his release point and I kind of model my shot after his," Morrow said.
To become arguably the best shooter in the league today, Morrow did not do anything unusual while growing up. Repetition of shooting the same jumpshot constantly is what Morrow did to become one the league's premier shooters.
"Just being the underdog, made me keep working hard. As I grew older, my shot became better," he explained.
Getting into the league made Morrow very happy and excited to show the world his talent. All of his hard work finally paid off. Even though he was not drafted, Morrow knew that one day he would get the chance of playing.
"I'm a hard worker and I knew that if I got the opportunity, I could make the best of it. Thank God the Warriors gave me an opportunity and I took advantage of it. I never looked back since," Morrow said.
In Morrow's first career start, he scored a career high 37 points against the Los Angeles Clippers. That was the most points ever scored by an undrafted rookie in their first start. Morrow had the whole building buzzing during the game.
Fans entered the Staples Center not knowing who number 22 in the orange jersey was, but near the end of the game, he had the arena on his side.
Not every player is perfect, Morrow does have some weaknesses. Personally, Anthony believes that he needs to work on becoming a better defender.
"Right now my effort is going to make up for it just being my second year in the league. If I continue to make improvements, I know I could be a solid defensive player," he said.
Morrow did participate in the NBA's all star weekend, but not in the three point shootout, a contest that everyone had him penciled in. Instead, he replaced Derrick Rose in the rookie/sophomore game.
Being in the game was a big deal for Morrow. He was coming off an knee injury and was feeling down. He was still working hard in practice, just having the motivation to come back into form. Getting the call from the league made Morrow's confidence grow.
"It was a blessing man, it was a breath of fresh air. When I got that call it made me feel good because David Stern and the league felt like I could showcase my skills in a game where it showcases all of the future of the NBA. It says a lot about what they think about me. I'm just glad to do that for myself, my family, and the Warriors organization," he said.
Morrow led the league in three point shooting last season, and can quite possibly lead the league again this year. Anthony can become of the the best shooters of all-time and a good player for a championship team, a guy that can hit the big shots when needed to.
Anthony is also a good team player. He is unselfish and a good teammate. He says the team chemistry is good because the team is young and everyone meshes in together.
"We such a young team, everybody's close. I'm probably closest to C.J. Watson and Stephen Curry. Me and Steph grew up together in Carolina. C.J. Took me under his wing when I came in, when I was undrafted, I came in and watched him in the summer league and he played really well," Morrow said. "The stuff that he was doing gave me confidence in myself, knowing that I could come out here and knowing that I can be here."
Morrow is more than just the shooter that people label him as, he can do more things out there on the court. Going undrafted might have just left the chip on his shoulder to become a valuable asset, to any team in the NBA.
Edited by Legacy, 18 March 2010 - 01:09 AM.